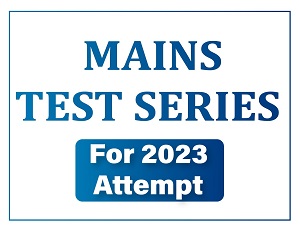 Long Term Mains Test Series
For 2023 Attempt
Course Description
Critical takeaways from the mains test series of last year
Many new aspirants are not equipped enough to write full-length mains tests. This typically leads to attempting very few questions in full-length tests.

Aspirants need a clear strategy and vision. Only evaluation for reorienting their answer writing will not suffice. This leads us to integrate Quality improvement Classes as an additional feature in our course.

Many aspirants are sticking to the traditional mode of answer writing because of the time crunch in the exam or because of a mental block that aspirants experience when writing mains answers.
Features
For every test, a Detailed Synopses PDF will be given. These tests are available both in the online and offline mode.
All the tests are followed by a detailed synopsis of the entire paper. We are also providing orientation classes to ease the students' induction into the program. These lectures will have discussions on changing trends of UPSC - Essay orientation, Answer writing styles, part wise evaluation.
Mains Practice Tests – 27 tests in total.

Includes 4 Essay Tests and 4 Ethics Tests.

The answer scripts will be evaluated by using our Scientific method of Part wise evaluation and there will be a three-stage evaluation process.

One-on-one appointment with faculty.

The program also includes classes on a generalized approach to essay writing and a detailed method of Brainstorming, Prioritizing and building narrative.

We are also going to provide a detailed synopsis of the mains tests