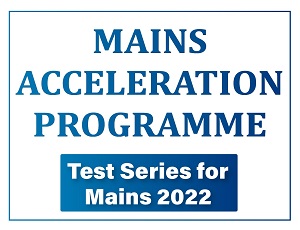 Mains Acceleration Programme
Test Series for Mains 2022
Course Description
MAINS ACCELERATION PROGRAMME (Mains Test Series for Mains 2022)
The time between Prelims and Mains is too short to even think, leave aside strategizing! The traditional way of preparing by aspirants has usually been taking multiple number of tests! If for a moment, we ponder the basic question that crops up is whether an aspirant will be able to cover the entire syllabus of Mains and also tackle the challenging questions in Mains through writing just 300 questions in the test series? A reasoned answer for this is sure NO. What should then be the best strategy which would cover all topics of Mains with intensive answer writing practice? The answer for this lies in the preparation which provides a right combination of tests, evaluation and strategic inputs by an expert.
In this pursuit MANIFEST LEARNING ACADEMY has come up with the Mains Acceleration Programme (MAP) which will begin on 14th June, 2022.
It is an accelerating course of nearly 90 days comprising tests on exclusive mains portions to full length tests and 125 marks tests to 250 marks.
Component 1 - Tests prepared by faculty
Component 2 - Detailed Synopsis
Component 3 - Evaluation by faculty
Component 4 - One-on-one discussion with faculty
Component 5 - Answer writing session
Component 6 - Essay writing Session
The entire course is handled by Mrutyunjay sir, a known name for 100% hit rate in mains exam and consistent essay topper.
Features
FEATURES:
Total 25 tests including 5 essay tests and 2 rounds of full syllabus papers

From Mains Exclusive Area to Common Areas

From initial 125 marks to 250 marks

Answer and essay writing strategy sessions in the beginning of the course.

One-to-one guidance, feedback and customized approach for each candidate by Mrutyunjay sir.
[NOTE: Tests will be evaluated for those writing in Kannada medium as well.]